Philanthropy and Social Investment in the Middle East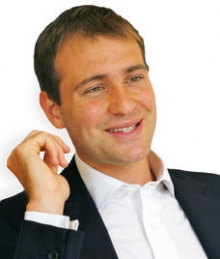 For me, effective philanthropy is about filling in the gaps.
The JMG Foundation
was named for my father, the late Sir James Goldsmith, a man whose business career was characterised by the skill to spot emerging opportunities and the nerve to act on them, fast.
Similar principles are very applicable to grant-making. The popular image of philanthropy, as held by society and by funders themselves, is as a catalyst for positive change. Our job is to back those interventions uniquely suited to philanthropic capital, with its appetite for innovation and for calculated risk. This involves channelling grants towards activities that complement, rather than duplicate, projects that could raise support directly from public or corporate funding sources.
For the JMG Foundation, which specialises in environmental grant-making, this often leads us to support quite spiky work – campaigning and hard-hitting advocacy – which prompts governments or business to move further, and faster, towards a truly sustainable course. The JMG Foundation does not have charitable status, and this gives us added flexibility, but what matters more than the structure is the mind-set of the board members. We believe it is important to look to the underlying causes of environmental problems, rather than attempting to fix the end results in a piecemeal way.
For all these reasons, we have deliberately chosen to direct our support upstream. In particular, we seek to remove the political, economic and behavioural blockages that form the biggest impediments to tackling climate change.
Take the example of tropical deforestation, which emits huge amounts of carbon into the atmosphere and is a core programmatic focus for the JMG Foundation right now. I like the idea of planting trees or designating new nature reserves as much as the next person, and in an ideal world the foundation might spend some of its money on conservation projects.
However, we do not feel this constitutes the most strategic use of funds. Deforestation will not be brought under control without tackling the sourcing of agricultural commodities such as palm oil and beef, or fixing the weak governance of many forested states (weaknesses that often lead to deforestation even in 'protected' areas). For grant-makers, this may mean working at several steps removed from the forest frontier itself, for instance with groups campaigning for reform of European agricultural and trade policy, or of corporate supply chains.
Another factor that leads us towards campaigning and advocacy is the relative lack of funding available to these approaches. Even large conservation organisations may struggle to resource their policy teams sufficiently, from internal or external sources. Certainly, business and government are far less likely to fund these approaches than 'softer' projects such as environmental education and practical conservation.
This would seem to open up a superb opportunity for philanthropic investment. Yet as a new analysis of green grants for the Environmental Funders Network (EFN) shows , the majority of trusts also eschew campaigning and policy work.
The report† draws out reasons why philanthropists find it hard to engage with environmental problems at their roots. These include a lack of mandate, difficulty measuring outcomes, and confusion over the legality of funding work that could be construed as politicised.
Nowhere are these inhibitions more apparent than with respect to climate change, which receives less than 0.3% of total giving by UK-based trusts overall. If we look to the great social movements of the past, such as for women's and civil rights, it is clear they did not achieve their objectives through politely asking the powers that be for reform. As we peer down the barrel of catastrophic climate change, incremental change to business as usual will not suffice.
Now is the time for bold action and philanthropic leadership in this space. This applies to nonenvironmental funders as well – endeavours to improve human welfare through health, development and security will all be set back profoundly by climate change.
The sheer scale of the climate challenge can make it difficult for funders to know where to begin. The EFN, which I helped launch in 2003, is designed to facilitate discussion and foster collaboration. The network now comprises more than 85 funding organisations which together make grants of more than £50m a year. If you are interested in learning about environmental funding, or in thinking through how your other grant-making could be impacted by issues like climate change, then do get in touch.
I would call on all funders who care about future generations to step up to the plate, today. The responsibility falls to us, and the hour is late.
Ben Goldsmith is the founder of cleantech investment fund WHEB Ventures, The Environmental Funder's Network, and advisory board member of The JMG Foundation, a non-charitable organisation specialising in environmental grant-making.
† Where The Green Grants Went 4, available to download at www.greenfunders.org