The Philanthropy Programme - International Trends in Philanthropy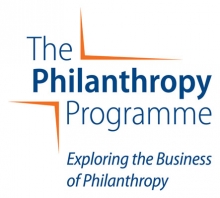 Please note that this event can only be booked through the Philanthropy Programme website. Please follow this link to register to this event.
EVENT FOCUS
New philanthropic trends, comprising new strategies and investment opportunities, emerge at a fast pace around the world. Professional wealth advisors are also increasingly dealing with international clients interested in making a difference globally. As an advisor, being able to offer advice and support to your clients throughout their donor journey is essential to deepening relationships and retaining clients.
At this event, we will explore international trends in philanthropy to help advisors stay on top of the latest perspectives of philanthropy across different global regions. International research on philanthropy will highlight what philanthropists are looking for when engaging with social issues across borders and how advisors can best support them.
Topics at this event will include:
UK - the latest trends in philanthropy and social investment
USA - perspectives on the philanthropic practices of high and ultra-high net worth donors, to better understand philanthropists' motivations, actions, and practices
Nordic countries - a perspective on their philanthropy and what Nordic philanthropists are particularly looking for
Middle East - changes in philanthropy, the role of Sharia and emerging trends
Panel: David Stead, Director - Philanthropy and Development, Charities Aid Foundation; Katherine Lorenz, Chair - Board, The Philanthropy Workshop; Pernilla Norlin, Deputy Managing Director, Swedish Entrepreneur Forum; 
Nyra Mahmood, 
Managing Director, Simply Sharia Human Capital
WHY ATTEND?
In the first event of the 2018 Philanthropy Programme series, an expert panel will examine the latest updates on trends in international philanthropy and highlight the significance in the advice given to international clients. This session is not only suitable for all professional advisors, but also philanthropists interested in understanding the latest trends and changes affecting international philanthropic giving.