PART THREE OF A THREE-PART SERIES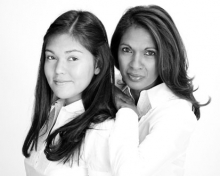 In each issue we ask a philanthropist to share their story of giving. Here Gina Miller, co-founder of SCM Private, and Miller Philanthropy, shares her story.
"I cannot pinpoint my moment of enlightenment. I am a humanist and firmly believe in people and in helping each other – for me, it is as simple as that. I would say it is in my genes so I would say my journey started as soon as I became aware of the world around me.
My grandfather was a wealthy landowner in what was British Guyana, who was known for his tough but kind nature and the benevolence with which he treated his many diverse tenants.
On his death my mother took over running his estate and tenants. My first memories of her amazing work was our monthly Sunday trips for me and my four siblings when mum took us on a long drive from the city to the countryside.
Anyone on the estate could turn up and talk to her about anything. Her approach filled me with awe, she never just gave hand outs but understood that people needed practical help and encouragement. For example, the poor family who couldn't pay their rent because their crops had failed and had no means of buying new seeds, were given seeds and more tools and told the arrears would be vastly reduced but never completely eradicated.
Another example was a farmer whose well had dried up and was given the materials to build a new one as long as he supplied the labour and gave neighbours access to the well.
Her attitude was that by being focussed only on the money and throwing people out of their homes, resulted in families being damaged and in turn the community. We learnt you had to be compassionate but at the same time encourage people to help themselves and preserve their self-respect. These lessons are the cornerstone of my philanthropic beliefs.
Philanthropy - a love of mankind
Philanthropy is a state of mind and heart. I don't believe it is simply about writing a cheque, although money is important, it is about doing what is necessary – giving generously of your time, skills, resources and profit. The world "philanthropy" comes from the Latin "philanthropia" which means love of mankind. I believe that people innately want to help but desist if they think they can only do a little – however for those who have nothing, a little is a great deal. It's all about perceptions and my perception is that we can all make a difference.
I firmly believe that we have to start in our own backyard. If more people did so, the ripple effect would be significant. I would love others to experience the feeling of sheer joy when you see in the eyes of someone you have helped that hope has returned.
None of us should be complacent. Lives can change without warning and I am more than aware that one day my family might need help, and I would hope that a kind soul somewhere may wish to offer succour.
As a teenager going to school in Sussex, I volunteered to visit an old peoples' home near my school as I have always been fascinated by our elders' stories and experiences. I remember being touched with sadness by an elderly gentleman who told me how successful he was, how successful his children were, of the places he had visited, but he had one regret; he felt he hadn't made a difference to anyone.  Whilst I would think this dear man underestimated himself, it must be a poignant realisation.
I have no great ambition, no great strategy. I simply want to help in the most straightforward way to find solutions to problems and not just to plaster over cracks.
My greatest inspiration is my eldest daughter. She will be 23 soon and has special needs. I say she has "different abilities" rather than disabilities and one of those is to see things clearly and with a heightened emotional awareness. One of the most profound memories I have of her insight happened one winter when I was walking through Bristol with her, aged eight.
On the pavement was a wreath, there was a group of teenagers nearby and I stopped to ask if they knew why the wreath was there. They said it was for a young boy they knew who was being abused at home so he ran away and was living on the street. Because the weather was so cold and he couldn't find shelter he lived under the stairway of flats behind where we were standing and had died because he was cold and hungry.
This brought me to tears as I couldn't believe in a civilised society like ours children were dying because they were cold and hungry! On the way home in the car my daughter was very quiet. When I asked what she was thinking, she said, "mummy we have lots of rooms in our house, can't we get the people who are cold and hungry to live with us so they don't die". My answer was "no" but I promised her that I would always spend time helping people and children who needed help. Her reply was, "yes mummy, because you know lots of people don't have anyone to love them". Her depth of wisdom is ever present. She often reminds me that people aren't really bad; they just don't have anyone to love them.
I want to encourage social care and love. If, for example, you see someone crying on a park bench, don't ignore them; simply ask if they are alright or if you can help. They might be desperately lonely, depressed, or suicidal and words of kindness and concern could be the lifeline they need. Philanthropy is about a big heart, not just a big cheque.
Conversations with my children about helping others, poverty and what I believe is right are reminiscent of those I had with my mother and she with hers. I don't see my philanthropic journey as ending with my death but continuing through my children.
I launched Miller Philanthropy in October 2009 to bring some structure and strategy to my giving and charity work. I wanted to offer others that might be time poor but rich in resources a 'philanthropic intermediary' opportunity, with no costs attached. I believe investing in grassroots, innovations and initiatives is the key to unlocking longer term solutions to some of the most glaring social issues. Our foundation is nimble, flexible, and efficient and has the ability to make maximum use of resources and skills available to us. We want to make the small, weak voices of the vulnerable, audible.
Miller Philanthropy is 100% underwritten by me and my family. All donations are given to small community-based charities that are supported in terms of finance, resources, mentoring and whatever it takes to help make them sustainable. All the chosen charities undergo rigorous due diligence, and all donors are kept up to date with how donations are spent and the projects being supported; keeping track of performance indications agreed with the charities and the outcomes they achieve."
Gina Miller
Gina has been a marketing director since 1996, accomplished in all disciplines of marketing relating to the UK retail financial services, hedge fund and business to business sectors. She has three degrees in Marketing, Human Resource Management and an LLB Law Degree.
Gina founded the first marketing agency specialising in marketing for retail financial services and at its height the agency had 42 financial services, product providers and IFA clients. She also co-founded the retail investment industry's flagship event portfolio, The Senate Programme.
In June 2009, Gina co-founded SCM Private, a pioneering investment management business, and a philanthropic foundation, Miller Philanthropy in October 2009. She has also co-founded Leigh Cottage Childcare which established a children's nursery near Bradford-upon-Avon in order to provide home-from-home childcare.
 SCM Private
www.scmprivate.com