The Philanthropy Programme - Core Components of a Professional Philanthropy Advisory Practice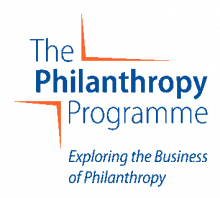 Please note that this event can only be booked through the Philanthropy Programme website. 
Reinforcing your role as a trusted advisor - becoming the first call for advice
The current situation means that we are living in a radically altered environment. Investing and the role that philanthropy plays has taken on a new dimension for many impact investors. Rather than being seen as an afterthought, philanthropy is increasingly becoming a core part of an investment strategy, and an essential catalyst for systemic and sustainable change - the ultimate goal of any socially minded investor.
Professional advisors can play an essential role helping to guide and facilitate philanthropic giving to achieve greater levels of client satisfaction.
What types of advice clients are looking for, based on the current philanthropy climate and trends? Are advisors prepared to respond to emerging clients' needs?
We will explore what questions clients are increasingly asking their advisors. 
WHY ATTEND?
Clients seeking help from their advisors with their philanthropic activities has doubled in the past few years. What has not changed is the 6 out of 10 rating advisors' clients give them for the support on their donor journey. Join us to learn what it takes to be rated 10 out of 10.
During the discussion, we will highlight the perspectives of both advisors and clients, and panelists will examine how advisors can prepare (in addition to their normal activities and general services) to support their clients:
By identifying the need to provide this support to clients – the commercial opportunity

By exploring how to raise the subject of philanthropy and frame the conversation for the client

In having meaningful discussions with their clients on matters related to their philanthropic and social impact investment journey
Chair - George King IV: Partner, MASECO Private Wealth
Panel - Jo Bateson, Partner, KPMG;  Cath Dovey, Co-founder of the Beacon Collaborative
Other speakers to be confirmed.
Format - Webinar
Time 
8:00 Los Angeles, Vancouver
11:00 Toronto, New York
15:00 GMT/UTC
16:00 London
17:00 Paris, Berlin
Duration - 1 hour
CPD - 1
Details - Prior registration is required. Following registration, registrants will receive an email containing instructions for joining the webinar. Attendees will have the opportunity to ask live questions of the speakers during the web-event.