The Philanthropy Programme - Understanding How the Third Sector Engages with Philanthropy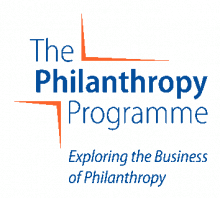 EVENT FOCUS
It is important for professional advisors working with wealthy donorsto understand what motivates their clients so as to better supportthem in their wealth management and donor journey. It is equally relevant to know what is essential in their clients' relationship with charities. For example, donors at different ages and different stages of their donor journey prioritise different factors:
 Selection factors (e.g. depth of knowledge/experience in cause area and ability to demonstrate impact) are important at the start of the relationship, but decrease over time

 Transaction factors (e.g. acknowledgement, feedback, opportunities to get involved and meet beneficiaries) remain important as they demonstrate the quality of the organisation

 Relationship factors (e.g. financial management, governance, innovation, quality of communication and networking with other donors) increase in importance over time and reflect deepening engagement
Evidence shows that younger donors seek a more engaged relationship with charities. This has significant implications for both professional advisors and for charities. Guiding clients through their donor journey includes helping them to articulate their vision, values, motivation and assess their areas of interest. It also means understanding an increasingly complex third sector, and how charities and social enterprises themselves work with donors, funders, government and each other.
 Charities and social enterprises, governance and structures, government relations, funding mechanisms and issues

 What philanthropists are looking for from the charities and third sector organisations they support

 The donor journey and the services philanthropists require from their advisors

 How the third sector involves funders – the different models such as venture philanthropy

 How you can help your clients manage their relationships with charities and their fundraisers

Hear from leaders in measuring the impact of charities and from charities themselves on how they relate to donors and their advisors
Chair: Catherine Grum, Head of Family Office, KPMG LLP (UK)
Panel: 
Sianne Haldane
, Solicitor and Head of Planned Giving Philanthropy, Cancer Research UK
Phil Bowen, Director, Centre for Justice Innovation
Sandra King, Chief Philanthropy Officer, Communty Foundation Tyne & Wear and Northumberland
Michelle Thompson, Director, Partnerships and Brands,The Power of Nutrition