Racial Equity in the Philanthropy and Impact Investing Ecosystem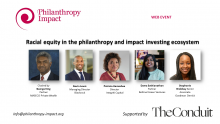 The role of philanthropists, social and impact investors  and their professional advisors in addressing racial bias.
As we confront calls for racial justice in the aftermath of the killing of George Floyd and the disproportional impact of COVID-19 on Black and ethnic minority communities in the UK and US, the philanthropy and impact investment sectors are being asked to support catalytic change. Now more than ever, philanthropists and impact investors are being challenged to put vulnerable communities at the heart of their work. With many concerned about building an inclusive economy, the issues of race, access and inclusion should be addressed.
Philanthropists, social and impact investors, and their  advisors will hear about innovations as well as about social change-makers. Research in the US has shown that Black and ethnic minority charities and social enterprises receive significantly less funding than mainstream organisations. Similar research does not yet exist in the UK, but recent surveys have shown that 9 out of 10 Black and ethnic minority led community organisations, under-funded and under-valued, are likely to close due to the Covid-19 crisis.
Download and read the event report, written by Sally Rice, Philanthropy Intern at C Hoare & Co here
/sites/default/files/user-uploads/philanthropy_impact-_racial_equity_in_philanthropy_and_impact_investing_ecosystem_c_hoare_co_event_report.pdf
Watch the full recording here