Corporate responsibilty
by Nicky Amos
Director, Nicky Amos CSR Services Ltd
Most companies are unlikely to disagree with the proposition that corporate responsibility is a necessary part of doing business in the 21st century. In fact, we are frequently reminded – by government ministers, captains of industry and civil society leaders – that the role of business is not simply to create wealth but to ensure sustainable wealth creation which, in essence, means respecting society and the resources on which success depends. It is perhaps not unsurprising that, according to a 2012 poll by Ipsos Mori[1], 87% of medium to large UK companies have a corporate responsibility policy or similar statement in place.  Nevertheless, while an increasing number of companies seek to manage their business operations, products and services in a more sustainable manner, many companies have yet to understand the role that corporate responsibility (or 'CSR') can play in helping to deliver business objectives and goals.
Unlike established business functions such as HR, finance and procurement, the role of corporate responsibility is not pre-determined. That is, it does not come with its own job description – and neither should it. If we were to analyse the FTSE 250 companies, we would find multiple variants on what corporate responsibility looks like in terms of its purpose, structure and scope. The same would apply to a cross-section of SMEs. In some companies, corporate responsibility assumes a discreet role, perhaps as a part of a risk management approach (i.e. ensuring compliance with relevant mandatory or voluntary regulations, standards and norms), or it exists to focus a company's philanthropic or employee volunteering efforts. In other, more progressive, companies, corporate responsibility is beginning to influence the way that they think, behave and organise themselves in pursuit of business opportunity as well as wider societal goals, such as helping to alleviate poverty, to promote health or to mitigate the impacts of climate change. While the examples outlined above present stark contrasts in how corporate responsibility manifests in business, the reality is that the majority of companies seek to find a balance between managing risk and maximising business and societal opportunity. 
So how should a company embark on setting a corporate responsibility agenda? Setting a 'corporate responsibility compass' can help companies to navigate the course in a way that directly supports the strategic business aims.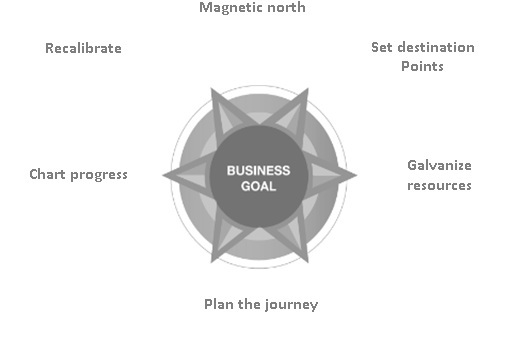 Find your magnetic north. The journey begins with companies asking themselves what purpose corporate responsibility should play in supporting the business aims. For example, does the company aspire to become an employer of choice? Is there a plan to grow or resize the business in a way that does not damage the company's reputation? Is there a need to reduce overhead without impairing productivity? Is the company seeking to enter new territories or seek out alternative supply chains? Does the company aspire to champion a social or environmental cause that chimes with its products, services or core values?
By understanding the business aims it is possible to identify the role that corporate responsibility should play in helping to manage related risks and opportunities.Indeed companies which regard corporate responsibility simply as a bolt-on will find that it delivers little or no tangible business benefit.
Set the destination point(s). Many experienced practitioners describe corporate responsibility as a marathon rather than a sprint, requiring pace, endurance and resilience in order to achieve the ultimate outcome. Companies which seek to achieve only short-term gain from their corporate responsibility efforts will overlook its role in helping to ensure sustained business success.
The corporate responsibility compass needs to be set to deliver tangible outcomes within a time-frame that is aligned with the company's line of sight – be this one year, five years or 20 years hence. Setting the markers – points on the journey – as interim objectives and targets will help the corporate responsibility agenda to stay on course.
Galvanize resources. While there can be clear benefit to having defined corporate responsibility resources (such as a head of sustainability or a CSR team), the most important condition is that the corporate responsibility mantle is assumed by everyone in the organisation. There are countless examples of CSR managers exerting little or no influence within the company, either because the corporate responsibility agenda is not genuinely owned by the leadership team, or because the leadership team believes that corporate responsibility should exist in a vacuum (i.e. that it should not interfere with the business aims), or because it is assumed that by appointing a corporate responsibility role discharges other managers of responsibility for the company's actions. Successful companies rely on employees – individually and collectively – to align themselves behind the company's vision, principles and aims; ultimately, it is the beliefs and actions of people that make companies responsible, not the corporate entities themselves.
Plan the journey. To help you prepare the journey, first understand what behaviours, actions and processes currently exist that will have a bearing on the corporate responsibility agenda. Are there existing principles, policies or guidelines which determine corporate behaviour? Is there a governance system in place with defined responsibilities and clear lines of decision-making? Does the company operate a performance management system to measure social or environmental performance alongside financial performance?
Having established a start point, companies can determine how to inspire action. Aiming to achieve a small number of simple actions is more successful than creating complex plans which can either overwhelm or distract people from business priorities. It is important also to set the tone for corporate responsibility – use a language that is intrinsically part of the company's culture and avoid adopting alien CSR jargon that, in itself, can present a barrier to progress.
Chart progress. The leadership team and employees will look for assurance that the corporate responsibility agenda is delivering meaningful business outcomes. Aim to present corporate responsibility performance within the context of business (i.e. financial) performance – for example by demonstrating linkages between employee turnover or satisfaction survey results and the level of employee engagement in charitable activities, or the proportion of tenders positively influenced by the company's corporate responsibility agenda.
To better understand the underlying factors affecting performance, consider breaking down measurement reporting by department, function or site. This, in itself, can motivate individual managers and teams to drive performance improvements.
Recalibrate the compass. While the compass will ensure that the corporate responsibility agenda stays on course, it is important to periodically take stock of the progress made and consider whether there is a need to recalibrate the compass to focus on a particular area of risk or opportunity, or to respond to changes in internal or external factors. This should diminish the risk of complacency setting in and ensure that the corporate responsibility agenda remains vital to supporting the delivery of business and wider societal aims.
In summary
Corporate responsibility is a necessary part of doing business today. It is a practice and a mindset employed by companies, large and small, to drive productivity, improve operational efficiency, boost staff morale, and enhance company reputations locally and at brand level. Any company wishing to compete for talent and new business will benefit from having a coherent corporate responsibility agenda in place that is aligned to its strategic goals and vision and which demonstrates its unique commitment to simultaneously delivering business and social value.
---
Case studies:
Noble Foods is the UK's leading supplier of fresh eggs to major retailers, supplying over 72 million eggs every week from independent and Company-owned farms.
For Noble Foods, corporate responsibility is about understanding the impact of its business on the wider world and considering how it can use this impact in a positive way. This commitment is incorporated into a comprehensive Corporate Social Responsibility policy spanning current activities and future plans in five key areas: Community, Marketplace, Environment, Workplace and Animal Welfare.
Animal welfare is central to the Company's CSR agenda. With its happy egg co. brand it aims to lead the way in setting animal welfare standards. Its team of experienced fieldsmen visit every happy egg co. farm each month to ensure that its high standards are rigorously maintained. The Company is proud to have received the leading industry accolade, 'The Good Egg Award', from Compassion in World Farming in recognition of its commitment to delivering high welfare standards for hens across all of its farms, and was listed as one of the highest ranked companies in the 2012 Business Benchmark on Farm Animal Welfare.
Another key CSR objective is to support communities by helping a range of local charities nominated by employees and forging links with local schools. It supports employees who participate in charitable activities by part-match funding monies raised. Employees have, amongst other things, taken part in runs for breast cancer research, trekked across the Sahara for the Help for Heroes and completed a 'Survival of the Fittest' obstacle run in aid of Cancer Research.
The Company has launched a number of product and promotional initiatives which support specific charitable causes including Eggs for Soldiers (which aims to raise £250,000 every year for Help for Heroes) and One Good organic eggs in conjunction with the One Foundation, with donations funding egg farming projects in sub-Saharan Africa. It has also devised many promotional egg packs with its retail partners including packs for Children in Need and Asda's Tickled Pink campaign which benefits Breast Cancer Care and the Breast Cancer Campaign, and has been a long standing producer of Sainsbury's Woodland Eggs, with monies from each pack donated to the Woodland Trust.
---
Forster Communications
Forster has been creating powerful social change campaigns, online and offline, since 1996. It specialises in research and insight, brand communications, digital and public relations.   
In 2009, Forster won the Sunday Times Best Green Company Award for its twin approach of working for positive environmental change with clients and walking its talk as a business with its own environmental impact. In 2010 it became the first company in its sector to have its environmental management system certified to the ISO 14001 standard, and it has introduced a range of programmes from bicycle loan schemes to the use of Zipcar hire to meet the local transport needs of employees.
Forster understands the vital role that small businesses can play in supporting local communities. In its own community of Southwark, Forster has been doing this in numerous ways: cash donations; employee volunteering, employees becoming charity trustees and school governors, offering pro bono services and spaces; sharing knowledge – open access to any advice or info they can give; and encouraging clients and suppliers to get involved in activities.
Forster has also been following a positive work/life balance agenda for several years. Its family-friendly policies have helped its business, deliver excellent staff morale, better customer service and low staff turnover. With its team of 30 people whose average age is 35, 21% of employees work part-time and 32% have dependents. Future plans include promoting healthier lifestyles through wellness initiatives in the workplace. The Company recognises the importance of respecting health and wellness and that increasingly, organisations will be expected to understand and respond to the wellness issues of their employees, including obesity and, increasingly, mental health and all its implications.
Forster continues to explore creative and ethical solutions through changing economic times, attempting to meet targets, be brave and share the learning. As founder, Jilly Forster, reflected in the Company's 2012 sustainability report, The Ground Beneath our Feet, "Standing still is not an option – for the way our clients do business, for the way we interact with them. For us, an SME, the terrain is difficult, the challenges complex, the opportunities risky – but exciting. Re-invention is a struggle which starts with fine-tuning the small things while holding onto the vision that launched you on your journey in the first place."
---
Recommended resources
Business in the Community (BITC): BITC is a movement of 700 member companies committed to continually improving their positive impact on society.  Their website has a section dedicated to SMEs.
Time Bank: TimeBank is a volunteer-led charity which matches employee volunteers with local community need for skills and hands-on support.
Chamber of Commerce: Most regions have an organisation dedicated to helping companies become involved in local causes. Check with your local Chamber of Commerce or other business advice services for local contacts.
Charities Aid Foundation (CAF): CAF is a registered charity committed to increasing the flow of resources to the voluntary sector.  CAF works in partnership with organisations by providing a range of services including payroll giving though Give As You Earn, matched giving programmes, charity accounts, personal charitable trusts and corporate trusts/foundations.
Green Office Week: Sponsored by stationery supplier, Avery, this annual event held in May aims to raise employee awareness of environmental behaviour in the workplace. The website (http://www.avery.co.uk/avery/en_gb/Projects-%26-Ideas/Ideas-for-Work/GOW/Green-Office-Week-Home.htm) provides daily tips and advice on ways to motivate and engage employees to save money and resources in and out of work.
Nicky is a CSR professional with 20 years' experience in managing and directing corporate social responsibility in global companies.She is recognised for her knowledge and insight across a range of business sectors spanning FMCG, construction, telecommunications, and financial services. As Head of Corporate Responsibility for The Body Shop International for more than ten years, Nicky was involved in pioneering work around supply chain development, sustainable sourcing, CSR reporting and social campaigning. As a strategic advisor, Nicky works with a range of private and voluntary sector clients in the UK and internationally. For more information contact nicky@nicky-amos.co.uk
---
[1] Ipsos Mori (March 2013) Corporate Social Responsibility (CSR) Research for UNICEF