Helping donors to give better
Many people look at getting people to give more. Giving Evidence and the Social Enterprise Initiative at the University of Chicago Booth School of Business have been looking at getting donors to give better. Perhaps improving giving will achieve more than increasing it: For instance, the cost of raising capital for charities is about 20-40 per cent, against only about 3-5 per cent for companies, and charities turn away some donors who are fiddly to deal with. It may be easier to reduce that cost of capital than to raise the amount given. Plus, money doesn't always go where it's most needed: for example, about 90 per cent of global health spending goes on 10 per cent of the disease burden – maybe those donations can cheaply be re-directed.
Our white paper looks at at (i)what good giving is, i.e., what donor behaviours produce the best outcomes, and (ii)how to persuade/enable/nudge donors to do those behaviours. It collates what is known on these topics, and lays out many unanswered questions which would form a strong research agenda. [The Chicago Booth School of Business was recently ranked by The Economist as the best business school in the world. And its leading centre on decision science is highly relevant since decisions are so integral to giving.]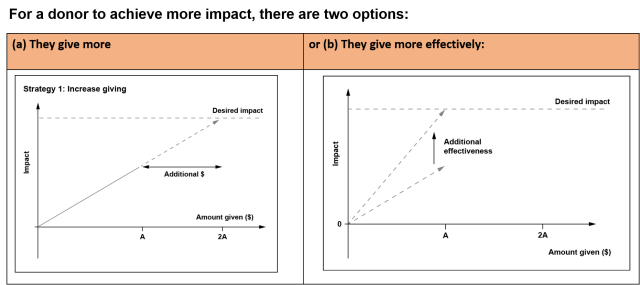 The effectiveness of the giving defines the gradient. Our focus is on increasing that gradient as a way of increasing impact.
The white paper identifies questions which non-profits, funders and other practitioners want answered about making giving better, and aims to encourage researchers to address them. Those questions include:
How do various donors (including foundations, corporates, individuals) define a 'successful gift'?

Is success affected by (eg): 

being hands-on?

donors working together (eg in giving circles)?

gift size?

how and whether the grant is tracked?

whether the donor gives, lends or invests?

the process, criteria, and people involved in the funding decision?

What does it cost to raise and manage grants of different sizes?

How and when can one influence the cause that a person supports?

How do donors choose causes, charities or grantees, and how influence-able is that?

How do donors choose processes (eg for sourcing grantees, selecting which to support)?
However one defines success for a grant, it would be useful to know (wouldn't it?) whether and when and how the chance of success is affected by how the donor gives.
Our purpose was to identify questions which non-profits, funders and other practitioners would like to have answered, which would help make giving better, and to encourage researchers to address them.
In terms of scope, the paper covers all giving: 'retail' individuals, endowed foundations, fund-raising foundations, private family foundations, companies – the lot.
To be clear, this paper isn't (just) about getting donors to choose high-impact charities. It's also about all the other choices which major donors /foundations make which can have just as much impact, and indeed can anhiliate the impact of their grant. A simple example of the effect of how one gives (as opposed to where one gives) is that funders sometimes create so much work for grantees that the grantee would be better off without that grant/relationship at all.  In that case the choice of charity doesn't matter much!
So questions we consider include: should donors give individually or in groups? should they proactively search out grantees or let grantees find them? how engaged should they be? how many focus areas should they have? That is, which giving behaviours (of those types) drive the success of grants -in whatever way the donor defines success? There's no shortage of opinions on these topics, but we present the known data. The Shell Foundation published data on the % of its grants which succeeded when it was, various, spray-and-pray, somewhat focused, and latterly very focused. That's what we're after: some empirical basis for ascertaining what makes for effective philanthropy. Obviously the 'right' answer may vary between circumstances, just as the 'right medical treatment' depends on the patient's condition, and those variations are interesting too.