Philanthropy Impact Magazine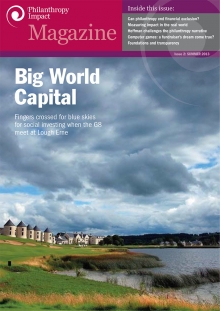 We were thrilled by the positive feedback we received to Philanthropy Impact Magazine Issue 1: Spring, thank you. We hope Issue 2: Summer 2013, continues to raise the bar on the myriad of challenges and opportunities facing philanthropy.
Our secret philanthropist sparked many discussions and we have printed David Gold's thoughtful letter arguing that the basic principle of philanthropy is to help improve people's lives.
In this issue our (not so) secret advisor reminds everyone in the UK, about a quirk in Gift Aid- acailable for this year only. Diana Leat tests her crystal ball skills by asking if foundations' attitudes and approached have changed over the past decade and what this might mean for the future, and we look at philanthropy in gaming! yes, you did read that correctly.
Kurt Hoffman unpicks the current philanthropy narrative and throws down the gauntlet to philanthropists. Remember, you can comment on Kurt's article now, and join our live conversation online on 12 June 2013 at midday UK time.
Your letters and comments inform our work, so please email editor@pilanthropy-impact.org.
Best,
Sue Daniels, Executive Director and Editor in Chief