Our 2020 Training Programme is now available for booking!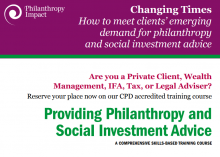 Register with Zofia Sochanik, Director, Training and Development to reserve your space now.
Who is the course aimed at?
Professional Advisers, whether it be Private Client, Wealth Management, IFA, Tax or Legal advisers who want to better understand the changing client needs around philanthropy and social investment, to improve their relationship with their clients in the long-term by leading their clients to address their values-based economic and social goals.
What others have said:
'Heiko's passion for this is infectious, I gained new perspectives on giving philanthropy advice and met others in the field.  Thanks so much for your valuable input at the course.
It really was hugely interesting and enjoyable - a rarity in many training courses!'
                                                                                                                                                                         Wealth Adviser, UK Private bank
'The description of the impact continuum and how it relates to different clients was very helpful and I have used it with clients a lot since the training'
                                                                                                                                                                         Private Client Financial Adviser
'The course gave me and my colleagues' confidence to have conversation about philanthropy and how to fit it in when talking about tax and structures'
                                                                                                                                                                         Tax Adviser, Global tax firm
'The course content has increased my knowledge and understanding of the client's changing needs around philanthropy and social investment, and how I can serve them better.'
                                                                                                                                                Private Client Adviser, UK Law Firm
You can read more about our training course and register here