HOLDING FOUNDATIONS IN SWITZERLAND - The Foundation-owned company model from theory to practice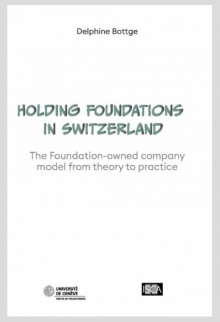 Publisher:
Université de Genève – ISCA-Livres
A holding foundation, independent of its purpose, is a foundation that holds significant stakes in one or more commercial company(ies).
First Swiss book on this subject, "Holding foundations in Switzerland - The Foundation-owned company model from theory to practice" presents the results of research and analysis conducted on more than 100 Swiss foundations holding nearly 2,000 companies. It addresses the challenges of the model, while also highlighting the diversity of structures, incentives and issues that come with this model. It also presents 5 case studies of prominent foundations: Victorinox and Carl und Elise Elsener-Gut, Hans Wilsdorf (Rolex), 1890 (Servette), Alfred and Eugénie Baur and EspeRare. And last, it provides an annotated international bibliography as well, mainly for academics and professionals. With more than 13,000 foundations and an average of almost one new establishment per day over the last decade, Switzerland is often considered the pinnacle of philanthropic countries. Holding foundations have flourished there since the first half of the 20th century, providing structure for both the Swiss economy and Swiss philanthropy.
The foundation ownership model in Switzerland is not limited to holding one type of company: There is wide diversity among the companies held, as much in terms of size, location as in activities (Industry, Food, Insurance, Education, Culture, etc.). The research also demonstrates that Swiss foundations that effectively held one or more companies may have different statutory purposes: a public utility purpose for some, an economic purpose for others or a mixed purpose.
The book also addresses the incentives behind Foundation Ownership which are often varied, complementary, and related to long-term ownership (continuation of the company and its founder's vision, lifespan, performance and stability of the company in times of crisis, appetite for innovation and creativity, independence of the company and its activities, employees' motivation, preservation of local installations), which creates a kind of 'double virtuous effect' with the philanthropic purpose the foundation may have.
It also highlights several issues in the current legal context arising from the hybrid nature of this model, regarding tax, governance, supervisory and inheritance law.
This book will be of interest to academics (students, researchers) as well as to practitioners (business leaders, foundation board members, lawyers, notaries, family offices) and anyone addressing philanthropy, corporate sustainability, governance and hybrid models generating a positive impact on society.
---
About the author
Delphine BOTTGE
Attorney at Law at the Geneva Bar (Switzerland) since 1995 and founder of Purpose Lawyers, Delphine Bottge has devoted her practice for the past 20 years to philanthropy, governance and the exploration of new economic and societal models. As a recognized expert, she accompanies and advises philanthropists and their families, companies and their leaders, foundations and project leaders.
Delphine Bottge is also an Academic Fellow at the Centre for Philanthropy (University of Geneva). She has conducted research on Foundations Ownership (i.e Holding Foundations), contributing to a better understanding of this model which combines economy and philanthropy and generates a virtuous circle, in line with the new economy.