A rebalancing act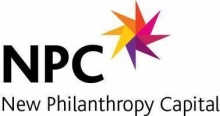 New Philanthropy Capital ( NPC)
Introduction
Philanthropy is an incredible source for good. Millions of lives are changed by the generosity of individuals and foundations. Yet there is an innate power imbalance at the heart of philanthropy. Funders hold the money, which traditionally comes with power over the recipients of funding and what they do with the funds.
In recent years, the power held by funders has come under increased scrutiny. Several high-profile books have called into question the sources of philanthropic power and the legitimacy of how funders exercise power.1 Whilst these critiques have tended to focus on so-called 'elite philanthropy' in the USA, they have stirred up wider questions about the balance of power in philanthropy, which have echoed around the UK sector as well.
NPC held three seminars in 2019 on power dynamics to explore how funders and charities are responding to these critiques of funder power and how our sector could achieve a healthier balance of power in British philanthropy. Our seminars were open-invitation and attended by a mix of foundation staff and trustees, philanthropists, charities, funder umbrella bodies and other social sector leaders.
The full report is available to download below.