Inspired Philanthropy: Your Step-by-Step Guide to Creating a Giving Plan and Leaving a Legacy (2007)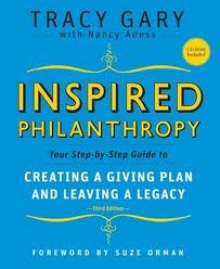 Publishing information:
Tracy Gary New York: Jossey-Bass, November 2007. 336pp. Hardback. ISBN 978-0-7879-9652-9 £15.99
Tracy Gary is an all-American motivational guru who has created her own unique niche. Instead of using her charm, patter and perfect teeth to help salesmen sell more widgets or assist managers in squeezing more productivity out of their team, Gary uses all the same techniques to impel her audience to realise their highest philanthropic potential.
Having observed one of her workshops in Maryland in 2003, I can testify to her ability to whip up a room of ladies-who-lunch into a philanthropic frenzy. This book is an attempt to capture her oratory into written form, providing a do-it-yourself guide to potential donors unwilling or unable to pay for a personal philanthropic coach. It combines exhortatory rhetoric about the importance and joy of philanthropy with more mundane techniques such as self-completion worksheets to commit the reader to action. Overall it offers a promising combination of high-flying idealism and prosaic practicality, but two potential obstacles may hinder this book's impact in the UK. Firstly, in giving terms we are two nations: 'spare change' givers and major donors. The former are not seeking strategic advice and the latter are unlikely to take such advice from a book. Secondly, as the missing 'middle market' of donors develops, it is questionable whether they will accept philanthropic counsel in such an overtly star-spangled style. For example, Gary's concluding sentiment – "May you enjoy and be graced by the journey, and may we reach for and connect with one another with exponential faith and love" – is likely only to succeed in proving that the UK and America are divided by a common language.
If Brits can stomach the style, this book contains much substance. As an inheritee who gave away her money in a strategic and enjoyable manner, Gary is a credible and personable guide to "creating a giving plan and leaving a legacy".
Therefore, having emphasised the cultural differences that might deter Philanthropy UK readers, this review ends by paraphrasing the essence of Gary's guidance, because it is as sensible, clear and concise as any advice that donors will find – and at £15.99, costs a lot less than hiring a personal philanthropic consultant!
The ten steps to more inspired philanthropy are:
Begin with your values and passions: What do you care most about and what do you want to preserve or change during your lifetime and beyond?
Ask mentors or leaders whom you respect what is needed; choose two to five issues, areas, populations or approaches and weigh these against what the community needs and your ideas of how change happens.
Identify the mission, intention and desired outcomes of your giving as specifically as possible.
Think about your immediate and lifetime giving. How much as a percentage of your earnings, assets or wealth do you want to give now or in the future? What will be your lifetime impact?
Learn about the areas you care about and what's needed through talking with others in the field and doing online research to refine your priorities.
Identify which groups match your mission then evaluate their leadership, vision, budget, productivity, and community ties.
Decide what percentage of your giving you want to direct to each area of your interests and the types of strategies you want to fund.
Decide which groups you will support.
Determine the amounts and make the donations.
Evaluate and review your giving process each year.