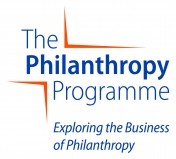 The Philanthropy Programme 2020
The Philanthropy Programme is a series of four educational events, plus online resources to support your technical expertise in trusts and estates, develop your philanthropy advisory practice and expand your network.

Now in its ninth year, the programme has attracted over 1,300 attendees from across wealth management and private banks, trust and estate professionals, law firms, research and philanthropy advisory organisations.
About our Programme partner
STEP
is the worldwide professional association for those advising families across generations. STEP help people understand the issues families face in this area and promote best practice, professional integrity and education to their members. STEP has over 20,000 members across 95 countries from a range of professions, including lawyers, accountants and other specialists. What connects STEP members is that they all help families plan for their futures.
STEP has a number of special interest groups, to include their
Philanthropy Advisors group
. STEP's special interest groups provide opportunities for practitioners and related professionals to connect and advance their focused area of practice. Specialisms focus around some of the more complex issues families face in planning for their future surrounding international families, protection of the vulnerable, family businesses and philanthropic giving, for example. The groups aim to benefit the practitioner, their area of specialisation, the clients they serve, and the industry at large. The groups are accessible by both Member and non-member individuals.
Produced by